【這是2019年12月台灣移工聯盟出版《移工的仲介故事書》新書發表時何春蕤寫的推介文】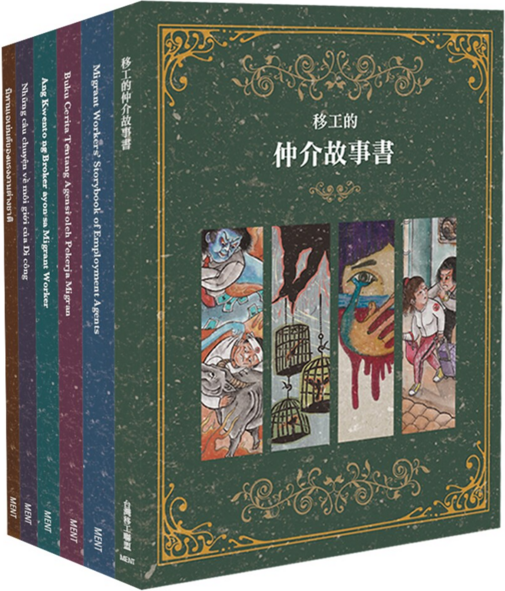 「故事書」的世界,通常充斥著不可思議、無法想像的人物和劇情。這本移工的仲介故事書就是這樣。
作為一個4年來靠著外勞看護照顧年邁公婆的「雇主」,我以為我多多少少了解這個領域和其中的人物狀態,然而在閱讀移工的仲介故事時,我不只一次充滿驚訝迫不及待地把書中不可思議的情況轉述給身旁的家人聽。
台灣雇主關切的只是:移工會不會中文?會不會照顧老人?會不會作家事?什麼時候會抵達?可不可靠?
我們不會思考的是:移工是怎麼從偏遠隔絕的東南亞鄉下來到台灣雇主家裡?她們經歷過怎樣的打造和錘鍊,背負了怎樣的仲介費用和債務壓力,持續被侷促在怎樣的孤絕情境裡,才能被徹底奴化,逆來順受地接下雇主自己完全不願承擔的勞動?
這本故事書說的,正是某些東南亞人群如何「被」仲介制度轉變成國際移工的親身經歷,也是台灣雇主在使用或享受移工服務時沒有面對的黑暗代價。
在故事中,雇主國與移工國之間的巨大經濟差距,首先透過風聲與憧憬,形成單向的虹吸效應。雇主國社會生活與人口結構的轉變,造成底層勞動力的匱乏與巨大需求,移工案例快速增長,創造了仲介(合法人蛇)和他們所謂的服務(合法剝削)登場,堂而皇之地築起層層剝削、環環暴利的勞動力輸送渠道。兩邊政府則選擇做最被動而有限的「客訴」工作,有人投訴時才登場施恩協助。
仲介制度的現狀和弊端其實反映了多年來因應各方需求的發展。例如它也提供一些專業培訓,並敦促求職者學習雇主國的語言,一方面可以回應「人口販運」的指控,另方面又可以增加收費的名目。相關管道和管理上的模糊與繁複,則使得無法掌握資訊又欠缺協商能力的弱勢求職者,很容易落入聽人擺佈、負債出工的位置。
很難想像台灣多達70萬的外籍勞工就是倚靠這種拼湊將就的私人仲介制度來運送;民族、文化、階級、國家之間的各種高下差距,都使得基本的人道人權──就像故事書中所記錄的──在私慾和貪婪中成為奢談。
跨國的自由流動或許是暫時無法達到的理想,但是移工所面對的殘酷現實卻是可以透過更好的制度安排來化解的。這本故事書已經指出了明路,移工運動的持續努力勢必會將它落實。
The world of the storybook is filled with incredible unimaginable characters and stories.  The migrant workers' storybook in front of you is no different.
As an "employer" who had benefited from the service of a migrant worker to take care of my aging in-laws for the past 4 years, I thought I knew the world of migrant workers well.  Yet in the process of reading the broker stories of migrant workers, I was so surprised by the incredible accounts in the storybook that I was compelled to pause and relay the stories to other family members time and again.
As employers, Taiwanese are concerned about whether the migrant speaks Chinese, whether she knows how to care for the elderly, whether she can do housework, whether she will arrive in time, whether she is trustworthy or not, etc.
Rarely do the employers think: How are the migrant workers removed from their remote countryside homes somewhere in South East Asia and relocated in their employers' homes in Taiwan?  What kind of molding and training have they suffered, what kind of broker costs and loans are they forced to take up, what kind of isolated desolate conditions are they put into–so that they are thoroughly enslaved to accept all the work and duties that the employers themselves despise to perform?
This storybook tells about the personal experiences of how certain populations in South East Asia were transformed into international migrants by the broker system.  It also reveals the unmentioned backside of the services provided by migrant workers and enjoyed by their Taiwanese employers.
In the stories, the huge economic difference between the employer nation and the labor-exporting nation produces a one-sided attraction through successful cases and wonderful legends.  Because of the dramatic change in the employer nation's social and population structure, a vast shortage and hence demand for lower-level labor is created.  As migrant cases accumulate, brokers (in many cases, legal traffickers) and their so-called "services" (in many cases, legitimate exploitation) came into existence, building up conduits for labor transportation that involves multiple layers of exploitation and huge profits.  The two governments, on the other hand, choose to perform the most passive "customer complaint" service—only when complaints are successfully filed would they emerge to help with the cases.
The present condition of and problems with the broker system reflect developments that emerged with years of expedient coping.  As it stands now, the broker system would provide some professional training and even language training to avoid accusations of trafficking, but the training courses also create more reasons for extra fees and charges.  The complexities and ambiguities of the broker system on the other had left most migrants in a position of vulnerability due to their lack of access to necessary information and their low stakes in negotiation.
It's hard to imagine that more than 700,000 migrants that now work in Taiwan arrived through this kind of haphazard private broker system, where various structural differences in ethnic, cultural, class, and nation status dimensions make measures that promote humanitarianism and human rights in migrant issues a luxury, as described in the book.
Free flow of population across national borders may be an ideal to be realized only in the distant future, but the atrocities and hardships faced by migrant workers could be and must be amended by well-thought systems and arrangements.  This book points to a clear path toward that goal, and the continued efforts of the migrant movement will see to it that the path becomes a thoroughfare for all migrants.
引用本文請保留網頁原始註記