2003 年 09 月 24 日
Professor defends link to 'Beast Love'
【2003/09/24 Taipei Times】
By Jimmy Chuang  STAFF REPORTER
National Central University English professor Josephine Ho shows reporters two academic books on bestiality research as she shows up for questioning at the Taipei District Prosecutors' Office yesterday.
A professor accused of offenses against morality for creating a link from her university department's Web site to a site promoting bestiality showed up with her students for an investigative hearing yesterday.
English professor Josephine Ho (何春蕤), who is also the director of the National Central University's Center for the Study of Sexuality, put the link to "Beast Love" on the center's Web site in April.
Surfers discovered the link on April 10 and, after receiving calls about it, Ho removed it the same day.
The site, which features pictures and a manual, has sparked discussion about the fine line between pornography and academic research.
Taipei District Prosecutor Yu Hsiu-duan (俞秀端) summoned Ho to yesterday's closed-door hearing after a group of activists, lawyers, teachers and parents, led by Chinese Nationalist Party (KMT) Legislator Tseng Tsai Mei-tsuo (曾蔡美佐), filed suit against her on June 23.
As well as her students, Ho's defense counsel, Jennifer Wang (王如玄) and Gender Sexuality Rights Association Secretary-General Wang Ping (王蘋) accompanied Ho to the prosecutors' office.
Before entering the interrogation room, Ho said she was quite disappointed that she was being sued over the link.
"This is disgraceful and improper," Ho said. "The link to the `Beast Love' Web site was merely an issue of academic research. In the West, people began to study the intercourse relationship between humans and animals in the 19th century. However, in Taiwan, it is still considered pornography even today."
Ho, vowing to fight the case to the end, said that what she really cares about is whether people can study, discuss and research whatever topics or issues they like.
Asked about whether she intended to make access to the Web site easier by linking to it, Ho said: "In fact, it was not easy to find at all. `Beast Love' has existed for four years but these so-called women's groups, had they found it before? No."
Ho said she has been endorsed by professors from more than 35 countries and they are waiting to see how Taiwan's judicial system will deal with the case.
If prosecutors decide there is a case, Ho will be charged with violating Article 235 of the Criminal Code, which says, "A person who distributes, sells, publicly displays, or by other means shows to another person indecent writing, drawing, or other [such work] shall be punished with imprisonment of not more than 12 months; in addition thereto, a fine of not more than NT$3,000 may be imposed."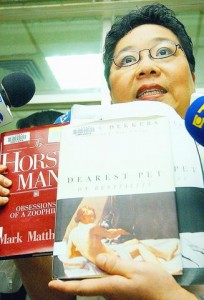 PHOTO: LIU HSIN-TEH, TAIPEI TIMES
原文出處:http://www.taipeitimes.com/News/taiwan/archives/2003/09/24/2003069014